Are you looking on how to bypass screen lock on your Samsung device without losing any data? Your search is over here! Today I will show you the top 3 methods to unlock password, PIN, Fingerprint or pattern lock on your Samsung device in case you forgot any of them. All of these methods has been tried and tested by myself so I guarantee this will work and help you to bypass Samsung screen lock easily.
Locking our device's screen is an important factor on our privacy. We don't want to give access to our personal data to anyone in case we lose the device, but what's happening when we forgot the screen lock we've been setting up before? That's the question you got here, I know. The good news is I got your back, so don't need to worry about this. I'll show you how to fix all of your screen lock issues in a moment.
Solution 1: Reset the Screen Lock with Google's Find my Device Feature
One of the best method to remove lock screen on your mobile is by connecting to your Google account and access the Find my Device feature. There you will find all of your devices you have connected your Google account with. Select the device you want to bypass the screen lock and move to the next step.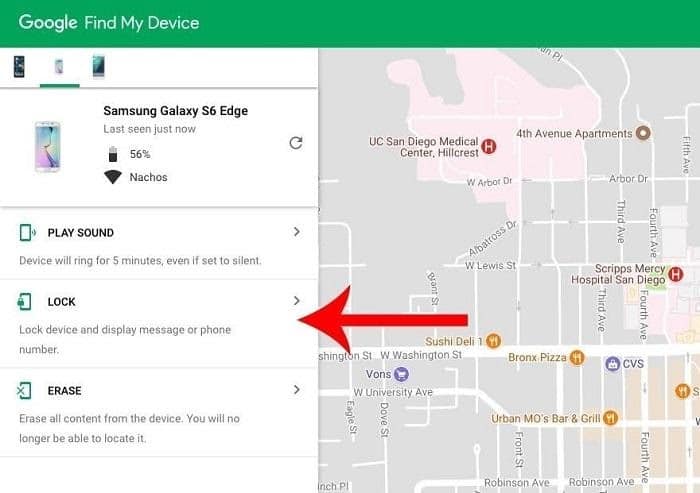 Clicking on the LOCK will let's you set a new password. You can also erase all content from the device, but also leave a message (like a phone number) on your Samsung's screen in case you lost it.
Solution 2: Unlock Samsung Screen with Samsung's Find my Mobile
Just like Google, Samsung has also a solution to locate, reset or unlock your devices remotely if they are lost or stolen. If your Samsung account is linked to your device you're ready to go. Also, make sure your phone has the "Find my Mobile" option enabled.
Sign in to your google account, then go to Lock my Screen option in the menu. Here you can set a new PIN/password to unlock the screen, but also send a message to the new owner (in case of lost or stolen).
Solution 3: Factory Reset to Bypass Samsung Password Lock Screen
A factory reset (hard reset) means your phone will reset to factory settings. I recommend this method ONLY if the previous methods didn't work for you, as this method will erase all of your data. Depending on your Samsung device model, these settings may be different.
Step 1. Turn off your device then old the power button and volume down at the same time. It will open the Bootloader menu.
Step 2. Press the volume down button two times to choose "Recovery Mode" and select it by pressing the "Power" button.
Step 3. Hold down the power button and tap "Volume Up" once and enter the "recovery" mode.
Step 4. Choose the "Wipe Data/Factory Reset" option by using volume buttons.
Step 5. Select it by pressing the Power button.
Step 6. Select "Reboot System Now" once the process is done.
If you did a backup recently, check these settings on how to recover data on your device. I recommend to do a backup regularly in case of any data loss in the future. Check out the video tutorial below on how to hard reset a Samsung device.

Conclusion
I hope you found what you needed and you don't have any lock screen issues anymore. However, if you're looking to unlock Samsung by unlock code, check out our Unlocky tool. It is free to use and will generate nck code by IMEI in no matter time.