When we think of the Galaxy S23's competition, the first smartphone that comes to mind is the Apple iPhone 14. Both cell phones have compact sizes, impeccable performance, top-of-the-line features and very good cameras. But which fares better in a duel of specs and experience?
After testing the Apple iPhone 14 and the Galaxy S23, I can tell you the main similarities and differences between the two models. Structurally, there is nothing to worry about, as both have well-built bodies, being a combination of glass and aluminum. Both are also water and dust-resistant.
Construction and design
Galaxy S23: 146,3 x 70,9 x 7,6 mm, 168 grams;
iPhone 14: 146,7 x 71,5 x 7,8 mm, 172 grams.
By now, you should already know the design of the Galaxy S23 and iPhone 14, so I'll spare you the less important details. Both Samsung's and Apple's cell phones have maintained the characteristic looks of their respective lines, so it's up to you to decide which one you like best. If I may express my opinion, I'm not a fan of the notch that Apple has insisted on using in its lineup since 2017.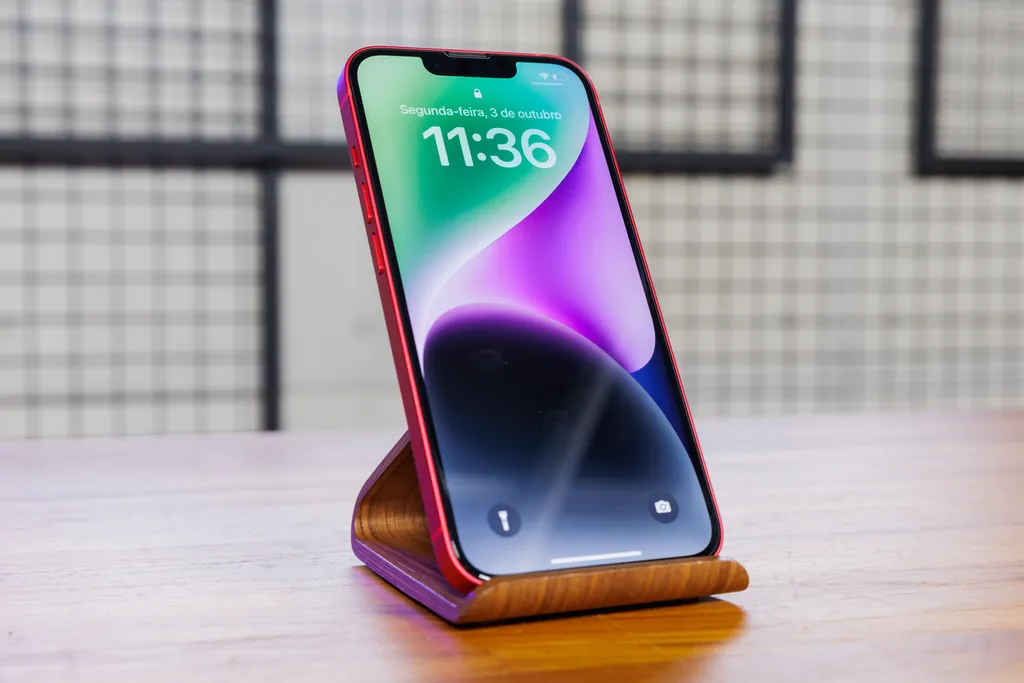 I find the simple hole for the camera, which Android phones usually use, more beautiful and visually interesting, even without the sensor's Face ID recognition. Although Dynamic Island is aesthetically inferior to the solutions present on Android phones, it would be nice to have found it on the iPhone 14, as it would make it more current.
However, I understand that many people prefer this iPhone's look for its exclusivity — which is perhaps why Apple doesn't tend to change much in that department. That is, it is worth putting the two cell phones side by side to see which one you like best. Structurally, there's nothing to worry about, as both have well-built bodies, being a combination of glass and aluminum. It is worth mentioning that both are also water and dust resistant.
Body
Galaxy S23: 6,1" Dynamic AMOLED 2X, 120 Hz, 1080p, HDR10+, 1,750 nits;
iPhone 14: 6,1" Super Retina XDR OLED, 60 Hz, 1080p, HDR10, Dolby Vision, 1,200 nits.
If in construction there weren't so many differences to mention, on the screen things change a lot. The two devices are similar only in the size of the display, being 6.1 inches (ca. 15 cm), and in the technology used, both with OLED variations. However, it is in the extras that the Galaxy S23 stands out compared to the iPhone 14.
Starting with the 120 Hz refresh rate, against the 60 Hz of the Apple cell phone. Practically, this means that Samsung's device displays content much more fluidly than the rival.
Most Unlocked: How To Unlock iPhone 14 by Unlock Code
Another advantage of the Galaxy is the fact that it manages to reach up to 1,750 nits of brightness in the extra brightness mode, required in open places. The iPhone 14 offers a maximum of 1,200 nits, which is a good number for a top of the line, but well below the rival. Something I would like to see on Samsung cell phones, and that iPhones have had for a long time, is support for content with Dolby Vision, the best HDR standard today.
The Samsung S23 only supports HDR10+, which I also think is pretty good. As for the day-to-day experience, needless to say, Samsung's cell phone pleased me much more. Not that the iPhone 14 is bad, but it can't compete with a much brighter and more fluid screen like the S23 — unless you also have similar properties to fight.
And the iPhone 14 notch gets in the way? Particularly, I don't see much problem with the notch in everyday life, but I prefer the discretion of the simple hole for the front camera of Android smartphones. It's more a matter of taste.
Performance and software
Galaxy S23: Snapdragon 8 Gen 2 For Galaxy, 8 GB RAM, 128/256/512 GB ROM, Android 13
iPhone 14: A15 Bionic, 6GB RAM, 128GB, 256GB, 512GB ROM versions, iOS 16.
Android vs. iOS. This duo generates fervent discussions on and off the internet, with "iPhoners" claiming that their smartphones do not crash, while Samsung fans boast about the freedom of Android. The truth is that, regardless of the justifications presented, we are talking about very similar premium smartphones.
First, they're both high-end phones, so they'll run whatever's on their respective app stores with ease for years to come. Eventually, both will also crash because they are electronic products, so don't panic when this happens.
The fact that Apple develops iOS for a few models makes the applications much more optimized than what you see in Google's OS, which covers thousands of totally different smartphones worldwide. That's why the iPhone 14, with its 6 GB of RAM, is equivalent to an Android phone with 12 GB or more.
Also on Unlocky: Unlock Galaxy S23 by IMEI
Basically, what you need to pay attention to is the choice of operating system, as they are quite different. As an Android user for almost 10 years, I haven't been able to get used to iOS in the opportunities I've had the iPhone as my main phone — and it's been a lot of attempts.
Some things that put me off the Apple cell phone were the iOS interface and the apps in general, with barely accessible gestures. The lack of some useful features that we see on Android phones, such as a platform similar to DEX mode and all the possibilities for customization, I also missed.
But iOS has a few tricks up its sleeve that some people might like, like the optimized camera on social networking apps like Instagram and TikTok. In addition, for those who have other Apple devices, the iPhone is certainly the best option for its great integration.
It is also worth mentioning that the two cell phones must be updated for long periods. The iPhone usually stands out for more than five years of updates, while the Galaxy S23 should receive updates until the future Android 17.
Camera
Galaxy S23: 50 MP, f/1.8 (main), 10 MP, f/2.4, 3x zoom, 12 MP, f/2.2 (ultrawide), 12 MP, f/2.2 (selfie);
iPhone 14: 12 MP, f/1.5 (main), 12 MP, f/2.4 (ultrawide), 12 MP, f/1.9 (selfie).
Both are excellent smartphones for photos, but we have some differences that are worth mentioning. The Galaxy S23 is more versatile than the iPhone 14 because it has three rear cameras: main, ultrawide and telephoto. This last sensor has been increasingly used in top of the line devices — it is even used by the Galaxy S23 Ultra to help capture images of the Moon, which has already generated controversy recently.
Samsung's camera software also stands out for its variety of photo modes and settings, such as Director's View, Single Shot and Expert Raw. The iPhone 14, however, remains a reference when it comes to photos and videos for social networks – no wonder, most celebrities use Apple cell phones in their daily lives.
In everyday life, the two have an image quality worthy of top-of-the-line cell phones, featuring great dynamic range (HDR), vivid colors and portrait mode. In videos, the iPhone 14 has the so-called action mode, which uses the optical image stabilization of the ultrawide camera, in addition to software resources, to considerably reduce the shaking in the recordings. It's a very interesting resource.
Battery and features
Galaxy S23: 3,900 mAh, 25 W fast charging, 15 W wireless and 4.5 W wireless PowerShare;
iPhone 14: 3,279 mAh, 15W MagSafe, 7.5W wireless charging (Qi).
Although neither exceeds the 4,000 mAh mark, we have a very good battery life thanks to the very efficient platforms. In our tests, the two managed to get through the first day of use with some peace of mind.
From my experience with both devices, the iPhone 14 should do a little better for the less bright 60 Hz screen that doesn't consume as much. In addition, applications do not weigh much on iOS, which also positively influences the battery life of the device. But the difference should be very small.
As for charging features, Apple claims that the iPhone 14 recharges 50% battery in 30 minutes, the same amount as the Galaxy S23. Where Samsung's cell phone takes advantage is in wireless charging, which reaches up to 15 W, against 7.5 W for the iPhone.
However, the iPhone 14 also delivers 15 W wireless charging, but using MagSafe technology, which is exclusive to iPhones.
Galaxy S23 vs iPhone 14: which wins?
The Galaxy S23 and iPhone 14 are the top compact smartphones you'll find on the market today. They are top of the line models that should do everything you need without having to buy more expensive models like iPhone 14 Pro Max and Galaxy S23 Ultra.
However, there are some very important differences between them. The Galaxy S23's screen is much better on a daily basis due to the 120 Hz refresh rate and 1,750 nits of brightness. Samsung's telephoto camera opens up more photography possibilities, not to mention more comprehensive photo modes and settings.
Despite having fewer camera features, the iPhone 14 should be considered by content creators and digital influencers, as its cameras are very well-used in apps like Instagram and TikTok.
As for the operating system, it is difficult to recommend one or the other because there is no best, but different. I know friends who don't change the iPhone because they find iOS sufficient for their needs, and the same happens with Android users. So, if you can, try both interfaces before deciding.
In the end, if we only consider the specs, the S23 ends up doing better for some advantages in screen and extra system features, like DeX mode. But if you want to venture into creating content for social networks, perhaps the iPhone 14 cameras are more suitable.